The European Commission looks set to leave one of its most crucial decisions until right before the Christmas break — whether to carve out a space for gas and nuclear energy in its green rulebook. It's likely to make a decision on Dec. 22 on the so-called "taxonomy" — a list of economic activities that can be considered environmentally-friendly. It will be a tricky balancing act, with inclusion of those energy sources threatening to undermine a pledge to set the "gold standard" for climate-conscious investors. It also puts at risk the EU's goal of climate-neutrality by the middle of the century. But with energy prices setting new records amid colder weather, and no sign that Russia will quickly refill depleted gas inventories, a compromise that allows for a time-limited inclusion may be seen as the only palatable possibility.
— John Ainger and Jillian Deutsch

What's Happening
Pipeline Pressure | The U.S. government wants to stop the controversial Nord Stream 2 gas pipeline if Russian President Vladimir Putin were to invade Ukraine, according to documents we've seen and officials we've spoken to. The Biden administration will push the new German government to agree to halt the project — a key point of leverage for the U.S. leader in a video call with Putin yesterday — if there is an invasion.
Border Wall | Who could pay for a border wall on the EU's eastern frontier will likely be the main topic of discussion at next week's summit in Brussels, according to a draft of conclusions we've seen. Covid-19 will also be high on the agenda, with countries vowing not to hamper travel "disproportionately" as a result of the spread of the omicron variant, according to the draft communique.
Fishing Hope | Fisheries Commissioner Virginijus Sinkevicius holds another round of talks with British Secretary of State George Eustice today, amid hopes it may bring a final deal on fishing licenses granted to French boats. An agreement, which both sides are seeking by Dec. 10, would end a dispute that has seen Paris threaten retaliatory trade action against London.
Trade Tool | The European Commission will today unveil its new trade weapon meant to counteract coercive practices outside the EU and bolster the bloc's geopolitical interests. The plan has faced pushback already from Sweden, which doesn't think the problem is significant enough to justify the proposal.
Market Union | The completion of the single market could bring a €700 billion boost to the European economy, according to the latest report from the European Round Table of Industrialists, a business association. The group compiled 30 stories from business leaders highlighting the negative impact of existing barriers in the single market as their contribution to the Conference on the Future of Europe.
Chip Balance | Two key supply-chain researchers warn in a paper today that China's progress in semiconductor technology poses a security risk to Europe and that the EU's plans for securing a leading-edge chip plant "won't suffice." The EU's Chips Act instead should focus on assembly, testing and packaging, they argue.
In Case You Missed It
Bad Loans | Top officials at the European Central Bank say they'll be focused in the coming three years on credit risks at lenders. Taxpayers cushioned the economic blow of the pandemic, but that support is running out and at the same time banks have been aggressive in their hunt for higher yields, potentially exposing them to shocks.
Recovery Money | The Commission poured cold water yesterday on prospects for the approval of the Polish and Hungarian recovery plans this year in a clear sign that the rule-of-law spat isn't over. EU Executive Vice President Valdis Dombrovskis said after a meeting of finance ministers that "it is unlikely that we can finalize this work still this year."
Wildfire Emissions | The EU's Copernicus satellite program has laid bare the environmental impact of wildfires from Greece to Siberia this year, which ejected 1.7 billion tons of carbon dioxide into the atmosphere — roughly equivalent to half the bloc's annual emissions. It shows that the blazes aren't just devastating for forests and economic livelihoods, but for climate change, too.
Omicron Spread | The head of the EU's infectious disease agency warned yesterday that deaths and hospitalizations will continue to rise in Europe due to insufficient vaccinations and the spread of the omicron variant. EU countries have taken measures to contain the virus, like lockdowns for the unvaccinated and closing bars and restaurants earlier, but the toll is still rising.
Night Out | Finnish Prime Minister Sanna Marin is being heavily criticized for spending a night out after she discovered that she'd been exposed to Covid-19. Marin remained at a bar on Saturday after she learned her foreign minister tested positive a day after they'd been in close contact. Marin has since twice tested negative
Chart of the Day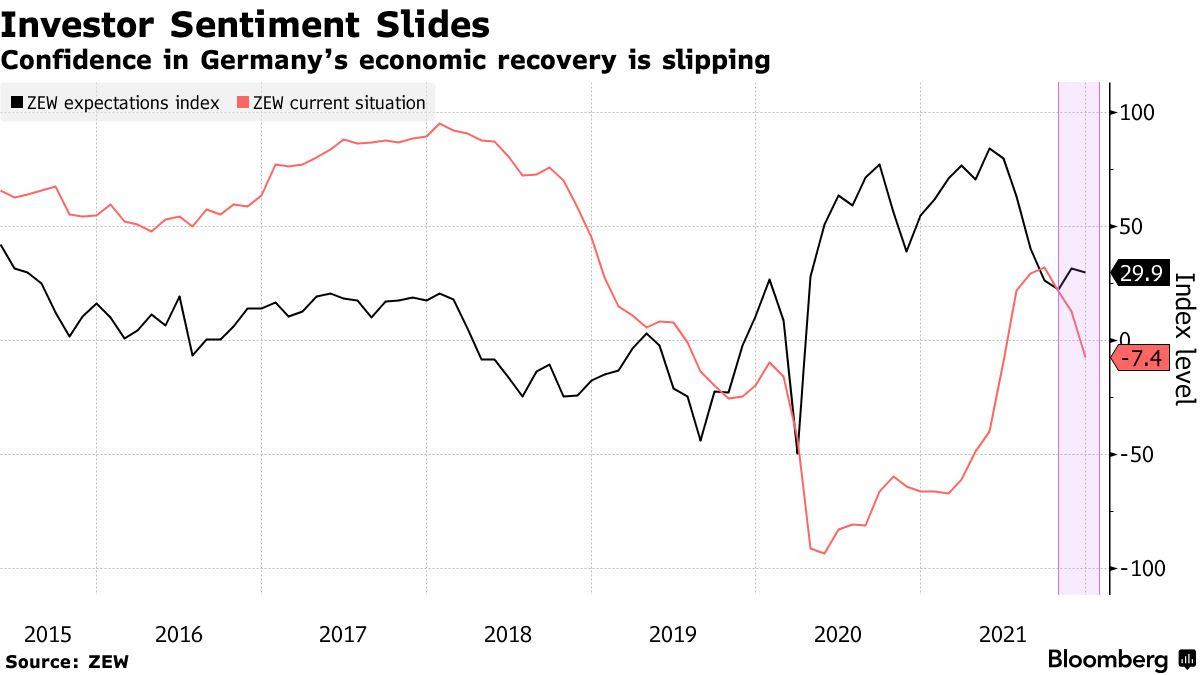 Investors' faith in Germany's economic recovery tanked this week after officials agreed on new measures to tackle the coronavirus. "The decline in economic expectations shows that hopes for much stronger growth in the next six months are fading," said Achim Wambach, president of the ZEW research institute. Officials tightened restrictions on the unvaccinated in an effort to limit infections and boost jabs.
Today's Agenda
All times in CET
9 a.m. Olaf Scholz to be sworn in as German chancellor
10:30 a.m. Energy Commissioner Simson delivers a keynote speech at the 13th Citizens' Energy Forum
2 p.m. Council President Michel gives address to annual EU Ambassadors' conference
7:15 p.m. NATO's Stoltenberg, Luxembourg's Asselborn at Friedrich Ebert Foundation event
Executive Vice President Vestager in Washington, meets with U.S. Treasury's Yellen and Trade Representative Tai
EU Brexit negotiator Šefčovič meets with the Irish Parliament's Joint Committee on EU Affairs
Internal Market Commissioner Breton participates in European Tech Alliance CEO Forum
Like the Brussels Edition?
Don't keep it to yourself. Colleagues and friends can sign up here.
For even more: Subscribe to Bloomberg.com for unlimited access to trusted, data-driven journalism and gain expert analysis from exclusive subscriber-only newsletters.
How are we doing? We want to hear what you think about this newsletter. Let our Brussels bureau chief know.